Client Testimonials
What Clients Are Saying About OEW
For the past 2 days I was in a lot of pain – in my lower back, many different muscles. Marie Oliver evaluated my body alignment, which got completely messed up. She worked on me for over an hour, which helped immensely, and gave me advice on what to do to help myself. I can't tell you how grateful I feel. She has helped me more than anyone.
I have been a client of Marie Oliver for over a year now. Her combination of myofascial release and acupressure therapies has worked wonders for my back pain. I recommended Marie to my wife and now she is a client.
I began seeing Marie Oliver for acupressure and myofascial release in 2014 due to some physical pain in my hips, shoulders and neck, and around my ribcage.  She came very highly recommended to me from a few trusted sources – one who had a visible physical improvement due to her bodywork with Marie.
Marie is committed to the well being of her clients and attends to their healing with compassion, knowledge, and kindness.  Combining both eastern and western healing modalities, Marie's healing touch offers freedom from pain and hope for the future.  She supports her clients to become fully aware of the possibilities that will bring health and joy into their bodies, and their lives.
Welcome to the
OptimumEnergy&Wellness

Blog
In a few weeks the Spring Equinox will herald the beginning of spring but we can already see the changes in nature all around us. The energy which retreated into the roots of plants and trees is now rising and creating buds and flowers. We are coming out of the season of energy conservation and entering a time of new beginnings and renewal. Our bodies which are a microcosm of the universe are also undergoing change. We look forward to the increased activity, warmer weather and expansion of spring.
The organ meridians associated with spring are the liver and gallbladder. The element of spring is wood and its energy has the ability to break through obstacles. In TCM the liver is responsible for the smooth flow of energy throughout the body; when liver energy is balanced the physical and emotional activity of the body functions optimally. Liver is also associated with ligaments and tendons and the eyes.
To promote health during spring:
Stretch- to maintain flexibility and tendon health, yoga, tai chi, Pilates
Eat greens- fresh leafy greens and sprouts can improve the liver's function
Sour tasting food and drinks stimulate the liver's function. Add lemon, vinegar and pickles to your diet.
Outdoor activity- fresh air improves liver flow
Eye exercises- take breaks when looking at a computer monitor or TV for extended periods of time and do eye exercises
Milk thistle tea is a great detox. It helps cleanse the liver from environmental toxins, alcohol, medications, pesticides and other substances
Have your energy balanced
http://optimumenergyandwellness.com/wp-content/uploads/2017/07/OE_logo-3.png
0
0
Marie Oliver
http://optimumenergyandwellness.com/wp-content/uploads/2017/07/OE_logo-3.png
Marie Oliver
2017-03-10 12:03:12
2017-07-24 17:51:25
Spring – A Time for Renewal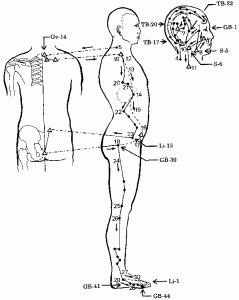 The Mayo Clinic definition of sciatica from August, 2015 states that it is pain that radiates along the path of the sciatic nerve, which branches from your lower back through your hips and buttocks and down each leg ending just below the knee. There are two types of sciatica: acute (caused by recent injury) and chronic (recurring). Most people who experience sciatica will usually have pain on one side of their body.
Though there are many causes for sciatica, from slipped or herniated discs to infections or injuries, in many cases there is no immediately obvious cause. Sciatica is a symptom not a condition; anything that irritates the sciatic nerve can bring about this symptom.
In the context of Traditional Chinese Medicine, pain is created by blockages (stagnation) in a person's chi (energy) and blood. When the body's energy is flowing freely, we are pain free. Most times when I treat sciatica I will work along the gall bladder meridian which flows exactly through the path of the sciatic pain. Sometimes the bladder meridian will also be involved. The bladder meridian travels down the back parallel to the spine, through the center of the buttocks, through the center of the back of the thigh and lower leg to the lateral side of ankle ending in the fifth toe.
When we look at these two meridians from the bodymind connection we know that Gall Bladder is associated with decision making and every day stress. In today's society there's plenty of stress to navigate each day. The Bladder is associated with the amount of rest we get each day and also with Kidney energy. We can see how long stressful days and inadequate rest can create an imbalance (blockage) in these meridians. The solutions: get adequate rest, have your energy balanced, exercise, especially stretching.
http://optimumenergyandwellness.com/wp-content/uploads/2017/07/OE_logo-3.png
0
0
Marie Oliver
http://optimumenergyandwellness.com/wp-content/uploads/2017/07/OE_logo-3.png
Marie Oliver
2017-02-23 16:02:49
2018-11-30 15:15:09
Sciatica Pain and Gall Bladder Meridian

Ancient Chinese Medicine had no knowledge of viruses or bacteria as causes of disease. It identified instead climatic conditions which can create disharmony in the body if a person is exposed to them over an extended period of time. These conditions include: cold, heat, wind, dampness, dryness and summer heat. These weather conditions can invade the body and cause disharmony.
We've already covered Chronic Cold, Chronic Heat and Dampness Conditions. The last three conditions are usually found in combination with one of the former.
Dryness is many times partnered with heat. Heat creates warmth and redness but dryness causes dehydration and evaporation. When this condition invades the body asthmatic breathing, dry cough, acute pain and fever may occur.
Summer Heat is oppressive. It can invade the body after exposure to extreme heat and can cause high fever and lethargy. It is often accompanied by dampness.
Wind is usually combined with cold when it invades the body. Symptoms of wind include: tics, twitches, stuffy nose and headaches.
Chinese Medicine would treat these conditions with a combination of dietary therapy, acupressure, acupuncture, herbal medicine, heat therapy (moxibustion), exercise (qi gong, t'ai chi) and meditation.
http://optimumenergyandwellness.com/wp-content/uploads/2017/07/OE_logo-3.png
0
0
Marie Oliver
http://optimumenergyandwellness.com/wp-content/uploads/2017/07/OE_logo-3.png
Marie Oliver
2016-10-28 11:58:58
2018-11-30 15:07:54
Chinese Medicine Causes of Disease- Revisited