Welcome to Optimum Energy and Wellness, a site dedicated to bringing awareness to alternative, holistic treatments for restoring health, energy and wellness. There is a Chinese saying that "Pain is due to lack of free flow and lack of free flow causes pain." In today's fast paced society of deadlines and responsibilities, managing stress is essential to health and balance. Without balance our energy flow becomes depleted, our immune system is compromised and physical symptoms follow. This is the core belief behind Optimum Energy and Wellness.
Optimum Energy and Wellness' Mission
Optimum Energy and Wellness' mission is to aid clients in balancing their body and mind by releasing pent up emotions and muscle tension to facilitate the healing process. This is done through the noninvasive manual practices Jin Shin Do® Bodymind Acupressure® and John Barnes' Myofascial Release. Treatment is focused on identifying the imbalances in the client's energy and structure and employing the various therapies to enable them to release physical and emotional tension. Thus, the natural balance of energy is restored; promoting relaxation and often diminishing pain. Energy work affects a person's body and mind and treatment is directed toward relieving the cause of problems rather than merely suppressing symptoms.
If you are tired of living with chronic pain and are willing to open up your body, mind and soul to find the healing space within, then please read on to learn more about Optimum Energy and Wellness.
The Benefits of Acupressure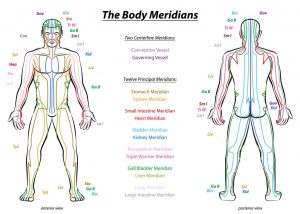 Acupressure utilizes deep, yet gentle finger pressure to release stress and emotional tension aiding the body to heal itself. There are many benefits of acupressure: increase of circulation, reduction of stress, strengthening of the immune system, diminished pain, increase of seratonin level and balance of the body's chi or vital energy.
When treating any chronic condition (ie. headaches, sinus problems, arthritis, etc..) a series of 4 sessions over 4 weeks is recommended initially to re-establish energetic balance and to evaluate symptomatic relief. After that time the practitioner and client will evaluate progress and discuss further treatment options to maintain optimum health.
As with all forms of natural healing the re-establishment of balance takes time. During initial treatment sessions a client may experience some discomfort for the first 24 to 48 hours, after that period of time they should feel much better. The length of treatment will vary depending on whether a person has an acute or chronic condition.
The Benefits of Myofascial Release
"Trauma and inflammatory responses create myofascial restrictions that can produce tensile pressures of approximately 2,000 pounds per square inch on pain sensitive structures that do not show up in any of the standard tests (x-rays, myleograms , CAT scans, electromyography, etc.)
This enormous pressure acts like a straightjacket on muscles, nerves, blood vessels and osseous structures producing the symptoms of pain, headaches and restriction of motion."— John F. Barnes
Myofascial release with its' sustained gentle pressure and stretching allows the chronic inflammatory response to resolve and over time eradicates the enormous pressure of myofascial restrictions. Thus alleviating painful symptoms and allowing the body's natural healing capacity to function properly. Clients can also experience increased range of motion and better alignment of posture.
The therapist may give you exercises to do at home to continue the healing process. As with any holistic therapy, healing takes time and is not always linear. The length of treatment will vary depending on whether a person has an acute or chronic condition.
Give the Gift of Energy and Wellness
If you have a friend, family member or associate who can benefit from our services at Optimum Energy and Wellness, why not give them a gift certificate. You can email your gift to the recipient or print a certificate from your desktop to hand-deliver. Give the gift of wellbeing with an Optimum Energy and Wellness gift certificate.
60 minute session: $110
90 minute session: $160
A 6.875% sales tax is included with the cost of each session. Bring written confirmation from your doctor or chiropractor recommending treatment, and the sales tax will be waived