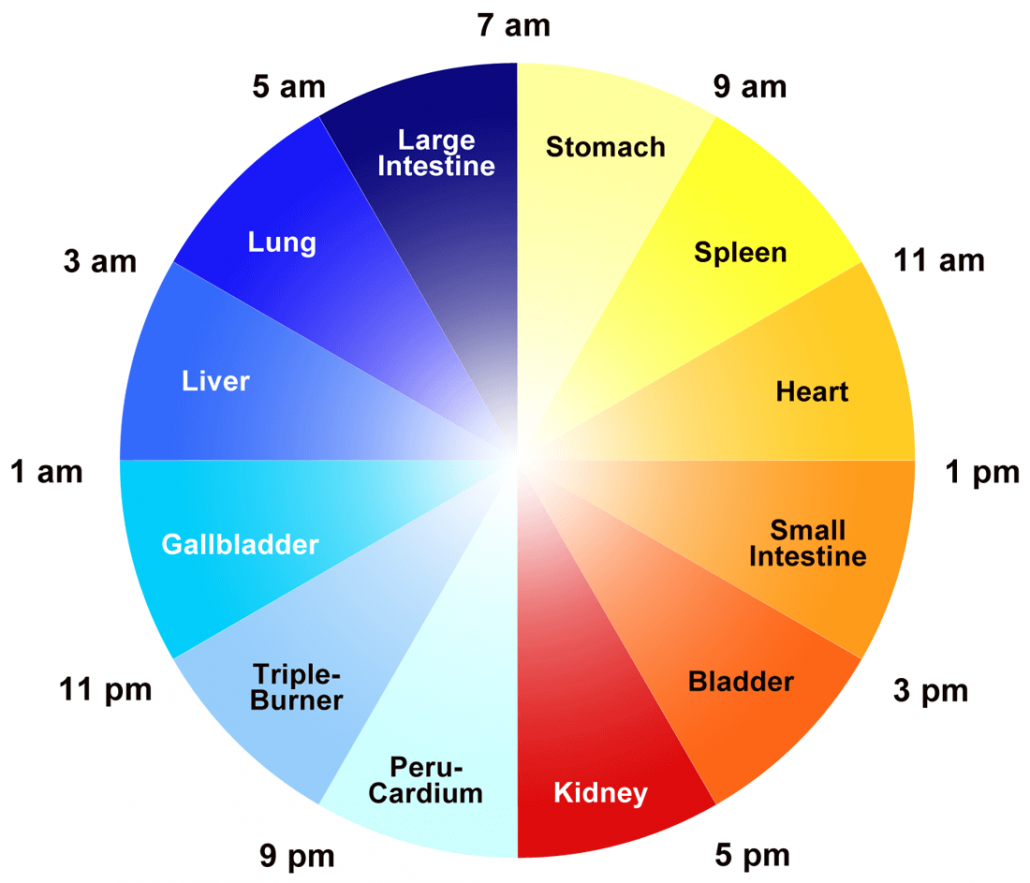 Every so often I like to revisit the 24-hour meridian clock.  It has valuable information on how our energy cycles throughout our body during a day.
"In Traditional Chinese Medicine, it is believed that each organ has its point of highest energy and lowest energy."
The 24-hour Meridian Clock shows the times when each meridian is most active and the best times for different activities.  For example: Gallbladder Meridian is most active between 11:00 pm and 1:00 am.  This meridian is responsible for decision making and everyday stress. The Body Clock shows the optimum bedtime to be between 10 and 11 pm.  Following the natural rhythm of our bodies enhances our health and wellbeing.
The summer meridians include: Heart, Small Intestine, pericardium and Triple Warmer.  These meridians are most active in the summer, so this time of year their 24- hour energy cycle times are heightened.
Heart Meridian – most active between 11 am and 1 pm. The activities are blood circulation, high energy, lunch
Small Intestine Meridian – most active between 1 pm and 3 pm. sort and absorb food, low energy, nap
Pericardium Meridian – most active between 7 pm and 9 pm. protection, light reading, sex, taking care of self
Triple Warmer Meridian – most active between 9 pm and 11 pm. Endocrine and metabolic balancing, sleep
Traditional Chinese Organ Body Clock/www.foreverconscious.com
https://optimumenergyandwellness.com/wp-content/uploads/2017/08/chinese-medicine-organ-clock.png
943
1100
Marie Oliver
http://optimumenergyandwellness.com/wp-content/uploads/2017/07/OE_logo-3.png
Marie Oliver
2018-08-14 11:29:45
2019-07-22 11:59:28
The 24-hour Organ Clock of Chinese Medicine