Client Testimonials
What Clients Are Saying About OEW
For the past 2 days I was in a lot of pain – in my lower back, many different muscles. Marie Oliver evaluated my body alignment, which got completely messed up. She worked on me for over an hour, which helped immensely, and gave me advice on what to do to help myself. I can't tell you how grateful I feel. She has helped me more than anyone.
I have been a client of Marie Oliver for over a year now. Her combination of myofascial release and acupressure therapies has worked wonders for my back pain. I recommended Marie to my wife and now she is a client.
I began seeing Marie Oliver for acupressure and myofascial release in 2014 due to some physical pain in my hips, shoulders and neck, and around my ribcage.  She came very highly recommended to me from a few trusted sources – one who had a visible physical improvement due to her bodywork with Marie.
Marie is committed to the well being of her clients and attends to their healing with compassion, knowledge, and kindness.  Combining both eastern and western healing modalities, Marie's healing touch offers freedom from pain and hope for the future.  She supports her clients to become fully aware of the possibilities that will bring health and joy into their bodies, and their lives.
Welcome to the
OptimumEnergy&Wellness

Blog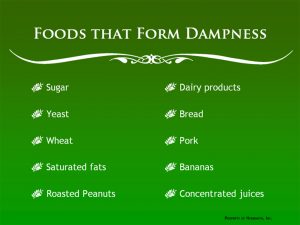 I've spoken about the six pernicious influences or causes of disease in Chinese Medicine before, but now that we're in the season of autumn it is a good time to revisit it.  These six climatic conditions are considered causes of disease within the body.  They are: cold, wind, dampness, heat, dryness and summer heat.  Many times these conditions occur together such as damp and cold or wind and cold.
It is also possible for these pernicious influences to develop from chronic internal imbalance.
One of the most persistent conditions which takes some time to resolve is dampness.  When internal dampness occurs it creates stagnation and a feeling of heaviness. It can occur from spending a lot of time in a rainy environment or from sleeping on the ground.  It can also occur internally from eating large quantities of cold foods and drinks, sweets and greasy foods.
Some symptoms of dampness include: edema, phlegm, and discharges.  It can also cause feelings of dizziness and heaviness, water retention, coughing or vomiting phlegm and skin rashes.  A damp condition will also make weight loss difficult. There are many different types of dampness, such as cold damp or damp heat.  Each condition has its own set of symptoms and treatment including herbs to drain the dampness, dietary changes and possibly moxibustion.  Dampness is a difficult condition which needs to be treated by a licensed acupuncturist in order to improve.
–Bill Schoenbart & Ellen Shefi—health.howstuffworks.com
http://optimumenergyandwellness.com/wp-content/uploads/2017/07/OE_logo-3.png
0
0
Marie Oliver
http://optimumenergyandwellness.com/wp-content/uploads/2017/07/OE_logo-3.png
Marie Oliver
2017-12-07 17:57:50
2017-12-03 18:07:29
Damp Condition Revisited