Client Testimonials
What Clients Are Saying About OEW
For the past 2 days I was in a lot of pain – in my lower back, many different muscles. Marie Oliver evaluated my body alignment, which got completely messed up. She worked on me for over an hour, which helped immensely, and gave me advice on what to do to help myself. I can't tell you how grateful I feel. She has helped me more than anyone.
I have been a client of Marie Oliver for over a year now. Her combination of myofascial release and acupressure therapies has worked wonders for my back pain. I recommended Marie to my wife and now she is a client.
I began seeing Marie Oliver for acupressure and myofascial release in 2014 due to some physical pain in my hips, shoulders and neck, and around my ribcage.  She came very highly recommended to me from a few trusted sources – one who had a visible physical improvement due to her bodywork with Marie.
Marie is committed to the well being of her clients and attends to their healing with compassion, knowledge, and kindness.  Combining both eastern and western healing modalities, Marie's healing touch offers freedom from pain and hope for the future.  She supports her clients to become fully aware of the possibilities that will bring health and joy into their bodies, and their lives.
Welcome to the
OptimumEnergy&Wellness

Blog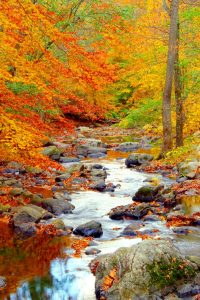 In autumn the expanded energy of summer slowly begins to contract. The earth's energy is pulled back from the leaves of trees and plants to go deeper into the trunk and roots to survive the winter. Within Chinese Medicine, humans are regarded as microcosms of the natural universe; subject to the same cycles that occur in nature. The cold signals us to prepare for winter ahead by bringing out warmer clothing. It is a time of gathering in, stocking up, mingled with a sense of loss as the light begins to fade and the air chills. It is a time to eliminate what is unnecessary and become aware of what is essential.
Autumn is associated with the element of metal which is represented by the organs of Lung and Large Intestine. The Lung pulls in and refines the Qi, (energy) sending it downward to nourish our roots. The lung rules the skin, the outer layer of the human body, protecting against external invasion and safeguards internal resources. Since autumn is a dry season, we need to protect ourselves from cold air evaporation of moisture from our skin.
Large Intestine is associated with letting go; not just on a physical level but also of thoughts and emotions that no longer serve us. The metal element nourishes our capacity to be analytic, critical, methodical, efficient and disciplined.
The emotion associated with the metal element is grief or sadness. We are leaving the warm abundance of summer and preparing for a quieter, reflective time of year. Keeping our energy balanced helps us to release the past and create space for things to come.
Nurturing foods for this time of year include:
white rice
white beans
pears
radishes
sea vegetables
potatoes
cabbage
turnips
parsnips
The flavors of metal element are spicy or pungent.
Dr. Frank Lipman
http://optimumenergyandwellness.com/wp-content/uploads/2017/07/OE_logo-3.png
0
0
Marie Oliver
http://optimumenergyandwellness.com/wp-content/uploads/2017/07/OE_logo-3.png
Marie Oliver
2017-10-30 10:53:56
2018-11-30 15:16:21
Chinese Medicine and the Season of Autumn